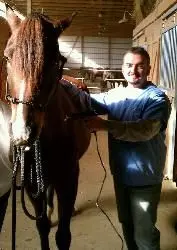 Animal Chiropractic
Pittsburgh native Dr. Michael G. Savko is a Chiropractor & Certified Veterinary Chiropractitioner. Dr. Savko utilizes a non invasive and effective healing technology called Veterinary Orthopedic Manipulation (VOM) to locate areas of your animal's nervous system that have fallen out of proper communication with the rest of the body and the brain. He then works to re-establish communication in these areas thus inducing healing.


VOM is incredibly accurate as it has the ability to find and reduce all nervous interference without drugs or surgery. The nervous system is extremely important to the body as it is responsible for pain and function. Therefore stress to the nervous system can halt the healing process, severely inhibit normal bodily functions, and produce pain or discomfort. The removal of stress to the nervous system can reduce pain and discomfort, and allow the body to function at a much higher level therefore reducing or even preventing symptoms from occurring.

Dr. Savko is able to work with all animals from kittens to Clydesdales. VOM supports performance and recovery; most conditions are treatable, and preventative or wellness care is not only available, but also recommended.


With or without symptoms nervous imbalance can affect your pet's lifestyle now or in the future. Have Dr. Savko evaluate your pet today for many healthy tomorrows!

---
Introduction to Veterinary Orthopedic Manipulation
Veterinary Orthopedic Manipulation (or VOM) is a healing technology developed in the early 80's by veterinary surgeon Dr. William L. Inman. Dr Savko studied this technique with Dr. Inman during the spring of 2000. Inman originally used it on pets that had a poor prognosis of being helped by surgery and with amazing results on these cases the technique naturally expanded to encompass most problems and disorders that effect companion animals. It is also used on healthy animals as well as animal athletes for the maintenence of well being and the prevention of injury. A VOM consultation can be used in most cases to evaluate for nerve interference, and it can also be used preventatively as well; meaning if nerve interference is found and reduced, there is the potential to eliminate the problem before it even starts.
VOM uses a device that delivers motion faster than the human hand with less total force into a joint segment; because of this fact the animal being treated can be in any level of discomfort (or lack thereof) and can be in any position when it is being treated, making the therapy much easier for the patient. As the motion from the device moves the joint, it affects the nerve in the joint, causing the nervous system to reduce pain and restore proper functioning. VOM is also capable of speeding the healing process.
A VOM consult should be used in most cases and also can be performed pre and post surgery as the treatment can enhance the functioning of the nervous system before the surgical procedure and has also been shown to get these patients up and moving 3-5 days sooner than without the VOM therapy.
Most importantly the research shows that animals live up to 40% longer with this treatment than without!


The reason why VOM is so very effective is that can find and reduce all nerve interference. It is also non-invasive, very fast (2-4 milliseconds per spinal segment), extremely specific, and does not require any cooperation from an animal that could be in a great deal of pain. Also, the position of an animal (sitting, laying, or standing) doesn't matter. This force is also adjustable to the size of the animal from a tiny bearded dragon lizard to a Clydesdale.
Typically three passes are made with the device starting at the top of the spine and continuing down into the pelvis. The legs can also be evaluated in certain situations. The first pass is diagnostic, the second and third passes are therapeutic. "Reads" are noted during these passes. A read shows when there is nerve interference in a joint. Reads can be as little as a mere ear flick or muscle twitch, or they can be as great as a leg jerk or head bob. Reads always indicate problem areas and how the reads change tell us whether they are acute (dont read on another pass, meaning they are corrected immediately) or chronic (read continuously, or change in intensity).
Routinely treated conditions include but are not limited to (see Dr. Savko's website FAQ page for a more complete listing):
Acute and non-acute lameness
Progressive lameness
Hip Dysplasia-like syndromes
IV disc disease
Progressive myelopathies
Urinary and fecal incontinence
Unilateral lameness
Wobbler's Disease
Diseases of the stifle

Esophageal disease
Increased or decreased GI mobility disease
Digestive disorders
Performance problems
Behavioral problems
Agility dysfunction
Endocrine disease
Uveitis
Please contact Dr. Savko directly for further information or to set up an appointment. www.drchirovet.com / 724-261-7915 / [email protected]